Speakers
2022
The Panamá Texas Business Summit® will count on the participation of featured Speakers & Moderators leaders of local industry, government and personalities that will share the most interesting lectures and business opportunities with the attendees.
Iván Eskildsen
Minister of Tourism of Panama
Tourism Summit
Mr. Iván. X. Eskildsen A.
Minister of Tourism
Autoridad de Turismo de Panamá
Summa Cum Laude, Bentley College, Boston, Bachelor of Finance.
Panamanian, entrepreneur with experience in the development of projects focusing on Panamanian culture and sustainability.
Had created and managed enterprises that seek to awaken young people interest in our custom. Especially strengthen community support, teamwork and changes behavior-
Before the age of 30 he founded and managed the Cubitá Project, a hotel, residential and commercial real estate complex, inspired by the architecture and traditions of the Azuero region which has cultural elements, it is the most important project in the area and has its private museum.
He has been founder and leader in different organizations, chambers and associations of private companies.
Avid volunteer engaged in regional organizations, focused on sustainable development, community projects and for many years dedicated to the study of practical philosophy and history.
Jaime Sosa
Panama General Consul in Houston
Jaime Sosa
Panama General Consul in Houston
Jaime A. Sosa was appointed by president Laurentino Cortizo as Consul of Panama in Houston. A graduate from the University of Texas in Business Administration and an MBA from Universidad del Valle in Colombia, Consul General Sosa has a distinguished career in marketing and communications having working as Marketing Manager of Cerveceria Nacional, the largest brewery in Panama, as Marketing Director of Philipp Morris Company, and as Vice President for the advertising agency BBM / Mullen Lowe. He has also directed his own market research and polling firm.
With over 40 years' experience in business fields and attendance to conventions and symposiums in more than 20 countries, Consul Sosa brings a results-oriented approach to his government functions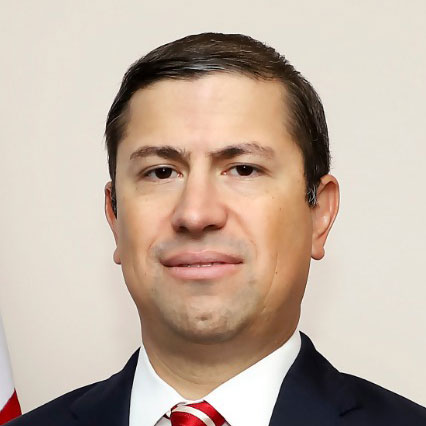 Juan Carlos Sosa
Vice Minister, Foreign Trade
AMBASSADOR JUAN B. SOSA
Vice Minister, Foreign Trade
In July 2019, Mr. Juan Carlos Sosa Quintero was appointed Vice Minister of Foreign Trade of the Republic of Panama by President Laurentino Cortizo Cohen.
He has more than 23 years of experience in the areas of international business, marketing, business administration and franchising. He has worked in hierarchical positions in local companies such as Importadora Maduro, S.A. and Super 99, in addition to serving in regional positions in Samsung Electronics Latin America and Dell Latin America and the Caribbean, where he has managed business units for all Latin America. He has served as a partner and CEO of distribution companies and world renown international restaurant franchises.
Mr. Sosa has also been a Director of International Consultative Councils for international franchises and Director of various national governing boards.
Vice Minister Sosa has a Bachelor of Science in Advertising from The University of Texas at Austin, as well as an MBA in International Business from Royal Holloway, University of London. Other studies include a certification program in Innovation Management from The University of California Berkeley and a certification program in Advanced Marketing from Northwestern University.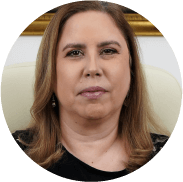 Carmen Gisela Vergara
Executive Director Propanama
Carmen Gisella Vergara

Executive Director Propanama
A lawyer by trade, Ambassador Carmen Gisela Vergara has more than 20 years of experience in business development, exports, trade negotiations, competitiveness and facilitation of international trade, among others. She is the Executive Director of PROPANAMA, Panama's national agency responsible for the attraction of foreign investment and promotion of Panamanian exports.
Ambassador Vergara has previously served in roles such as Secretary General of the Central American Economic Integration System (SIECA), Executive Director of the Federation of Chambers of Industry of Central America (FECAICA), Panama's Minister of Trade and Industry, Deputy Minister of Foreign Trade, Director for Panama at the Central American Bank for Economic Integration (CABEI), Manager of Panama's Technological Business Accelerator, and has represented Panama in roles such as Alternate Delegate to the OAS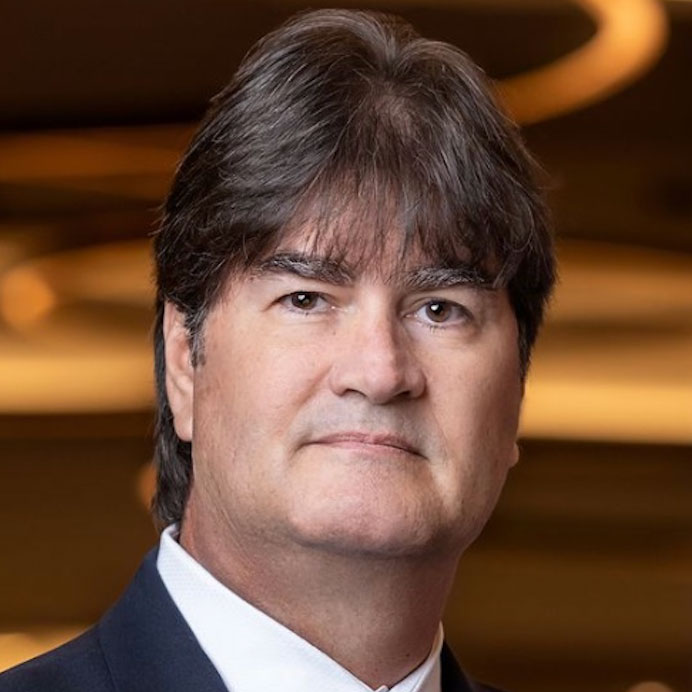 Eric Paz
CEO and Chairman, Panama Texas Business Summit
Eric Paz
CEO and Chairman, Panama Texas Business Summit
Lives in Austin, Tx for 20 years. Spend several years working in his home town Panama, became a successful publicist & marketeer, running both an advertising agency & production services, (D'Arte Publicidad, full service advertising agency & Vogue Promociones, pre-production & billboard company), in the 90's, starts his journey in hospitality (Hotel Rincon Vallero, Panamá) & president of APATEL (Panamanian Hotel Association) for 2 periods. Moved to USA in 2002 with amazing wife and two beautiful babies, "The best years of my life," he always said. Starts working in media as a Commercial Director for the largest Hispanic Newspaper in Central Texas (El Mundo Newspaper), then moved to TV as a General Manager (Azteca America Television), few years later founded Speed Marketing Services and starts producing AutoShow TV, the only Spanish speaking automotive TV in Texas. Member of the Texas Autowriters Association, TAWA. Always fascinated & obsess with culinary and more adventures, became a Chef and launched a line of food products, among them, the popular "Paella Mix, The Easiest way to cook Paella", a popular Paella Rice for sale in important food markets (Whole Foods, Central Market, Online, etc), opened a very popula Spanish Restaurant in Austin, "La Bodega Gourmet". Founder of "the PAZ Family foundation" during the Pandemic year in 2020 to help feed poor families in Panamá. Continuing with a marketing spirit, create the Panama Texas Business Summit®, an Iconic business trade event in Texas in 2021& 2022.
The vision is simple
"Look for any opportunity in life you can see success & feel real joy doing it"
Carlos Berguido
Executive President, Panama Banking Association
Carlos Berguido
Executive President, Panama Banking Association
Managing Partner of KBK ABOGADOS (since 2005), which is a Law Firm specializing in Insurance Law, as well as Corporate, Commercial, Tax, Real Estate and Estate Law. Formerly, Executive Director and General Counsel to the Panamanian Association of Insurers (2003 – 2017)
Bachelor of Science in Business Administration with a Major in Accounting from the E. Claiborne Robins School of Business Administration, University of Richmond, (Virginia, USA), 1987. He is an Attorney at Law from the Catholic University Santa Maria la Antigua, Panama, Cum Laude Honors, 1994. He also has the technical certification of Associate in Reinsurance (ARe) by the Insurance Institute of America / American Institute of Chartered Property and Casualty Underwriters. Fluent in English and Spanish.
During his professional career, Mr. Berguido held several leadership positions in insurance companies in Panama, as well as in the largest savings and loan bank in Panama. Since 2015 he has been included into the AM Best Directory of Recommended Insurance Attorneys; and was a Professor of Insurance Law at the Catholic University Santa Maria La Antigua in Panama.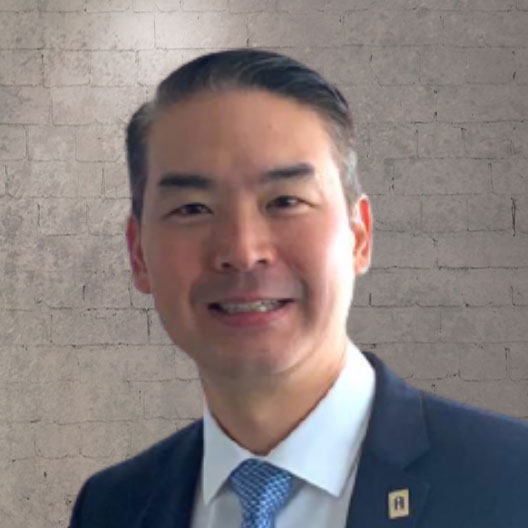 Francisco Cheng
President, Panama's Real Estate Association (ACOBIR)
Francisco R. Cheng
President, Panama's Real Estate Association (ACOBIR)
Francisco R. Cheng, currently President of the Panamanian Association of Real Estate Brokers and Developers (ACOBIR), is founder and General Manager of the company Norte Promotora Inmobiliaria.
He has worked in different sectors, highlighting his experience as Vice President and Financial Controller at Cable & Wireless Panama. Cheng has more than 15 years of experience in real estate development.
He is a Civil Engineer graduated from Texas A&M University, has an MBA from the University of Houston and a Master of Finance from Boston College.
Marcela Galindo
President, CCIAP
Marcela Galindo De Obarrio
President, CCIAP
Current president of the Chamber of Commerce, Industries and Agriculture of Panama (CCIAP). Prior to this position, she was vice president of the CCIAP and director of Group No.10, Health and Chemicals of the Chamber. She has represented this business association in the Health Table of the Dialogue of the Bicentennial Pact and in the Commission for the Improvement of Health of the Ministry of Health, among others.
It is also part of the founding group of #TodoPanama, an apolitical citizen, civic and guild movement that selflessly seeks to implement a comprehensive plan in response to the consequences generated by the COVID-19 pandemic, mobilizing the community to stop the spread of the virus and support the economic reactivation. In the period 2020 – 2021, she held the Secretary of the Board of Directors of the # TODOPANAMÁ.
She graduated from Texas A & M University, USA and University of Twente, Holland, she has more than 20 years of professional experience in operations and commercial management of various economic activities. Currently, she is the Manager in the Pharmaceutical Division of Corporación Impa-Doel.
Jenna Saucedo-Herrera
CEO, Greater SATX Regional Economic Partnership
Jenna Saucedo-Herrera
CEO, Greater SATX Regional Economic Partnership
Jenna Saucedo-Herrera is the CEO of greater:SATX, a regional economic partnership charged with growing and diversifying the eight county San Antonio-New Braunfels MSA. In this role, Jenna and her team work closely with the regional business community and government to recruit new companies, foster global business relationships, help local companies grow, and build the local talent pipeline.
During her five-year tenure at the helm of San Antonio's economic development team, greater:SATX has secured over twenty three thousand jobs for the region through recruitment and expansion projects that include: Ernst & Young, Victory Capital, Navistar, and Aisin.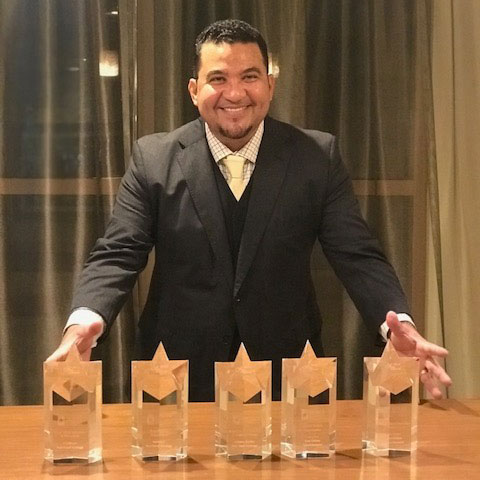 Robert Cowes
President, CEO
SmartTouch® Interactive
Robert Cowes
President, CEO
SmartTouch® Interactive
A native of Panama, but long time resident of Austin, Robert Co-Founded SmartTouch Interactive in 2010. He leads marketing strategy for agency clients and overseas software product management for SmartTouch NexGen as well. Ex baseball player and retired surfer sports nut. He brings a BBA in Finance and Marketing from St. Edward's University and MBA from Southwest Texas University and 20+ years of accountable real estate marketing experience helping to drive over 5 Billion in real estate sales from marketing programs he has lead in his career. He loves real estate marketing and green SO MUCH he started a firm dedicated to All Lines In!
Ivette Robinson
President Robinson Construction
Ivette Robinson
President Robinson Construction
Yvette Robinson is President of Robinson General Contractors, Inc a company she established alongside husband, Kurt Robinson, in June of 2010. Yvette's diverse construction background sprouted while working at the family business, Paisano Home Builders, a residential Home Builder in Laredo, TX.
Robinson General Contractors, Inc. has over 50 years of experience in construction management services amongst its distinguished staff. Our full-service consolidated general contracting combined with sharp business insight, financial responsibility, innovation, extensive experience, and a commitment to quality will exceed your project expectations.
Yvette is constantly working to expand the growth that she has started at Robinson General Contractors, and enthusiastically works with the community. She sits on the Board of the Hispanic Chamber of Commerce, and volunteers with the San Antonio Stock Show and Rodeo BBQ Committee.
Leadership Programs:
ABLDP Alumni Class of 2016
Leadership San Antonio Class 43 (LSA43)
Goldman Sachs 10KSB Alumni – National Cohort 13- Babson College
CVS Health Executive Learning Series for Diverse Suppliers Class of 2019
Awards and recognitions:
San Antonio Hispanic Chamber of Commerce – 2015 Embajadora of the Year
San Antonio Minority Enterprise Development Week – 2016 Emerging Construction Firm
San Antonio Business Opportunity Council- 2016 Minority Enterprise Development Award San Antonio Hispanic Chamber of Commerce 2017 "Making a Mark on the World" 8th Annual Women's Awards Luncheon "Rising Star" Honoree
Hispanic Contractors Association- HCA de SA- 2016 SMWVBE GC or the Year
Hispanic Contractors Association- HCA de SA- 2019 SMWVBE GC or the Year
Jesus Saenz
Director, San Antonio Airports
Jesus Saenz
Director, San Antonio Airports
In January 2020, Jesus H. Saenz Jr., IAP, was appointed to serve as the city's Director of Airport's. In this role, he oversees the day-to-day operations of the San Antonio Airport System, made up of the San Antonio International Airport and Stinson Municipal Airport. Combined the airports account for economic impact of more than $ 5.2 billion annually and support approximately 46,000 jobs in the region.
Mr. Saenz brings a strong focus on strategic planning initiatives to enhance customer experience, shepherd the airports capital improvement projects and increase the international airports air service, both domestic and international.
Previously, Mr. Saenz was Chief Operating Officer (COO) for the Houston Airport System (HAS). As the COO, Mr. Saenz oversaw strategic and business plan development, business process re-engineering, implementing of technologically complex projects and airport operations.
He has held a wide range of positions, including General Manager for William P. Hobby Airport Assistant Director of Administration and Customer Service at George Bush Intercontinental Airport, Assistant Director of Transportation at George Bush Intercontinental Airport, Acting Assistant Director of Operations at George Bush Intercontinental Airport, Senior Superintendent, Superintendent and Customer Service Manager.
During his nearly 20-year aviation career he has become an accredited executive of the Global ACI-ICAO Airport Management Professional Accreditation Program (AMPAP-IAP). He is designated as an International Airport Professional. He is also an active member of the Airports Council International Facilitation Team and AAE member. Mr. Saenz obtained his Bachelor of Arts degree in Social Sciences from University of Houston-Downtown.
Dan Geddes
President Frost Bank
Dan Geddes
President Frost Bank
Dan Geddes was born in Dhahran, Saudi Arabia and raised in Katy, Texas. He is a 1996 graduate of Trinity University earning a BS in Business Administration with concentrations in Accounting and Finance. Dan started his career with Frost Bank in January 1997 in San Antonio as a Credit Analyst in the Credit Department. Dan worked in the Commercial Real Estate Lending Group in San Antonio before moving to Houston in 1999. In Houston, he was a commercial lender focused primarily on commercial real estate lending until 2012 when he moved to Credit Administration as a Production Credit Officer. In October 2014, Dan became the Sales Manager of the Commercial Real Estate Group in Houston. Beginning in October 2018, Dan became the Houston Expansion Execution Leader responsible for the completion and performance of the 25 Branch expansion effort. Currently, Geddes serves as the San Antonio Regional President.
Dan married his high school sweetheart, Missy. They reside in Boerne, Texas and have four children after living in Katy, Texas for the last twenty years. While in Katy, Dan was a member of Church of the King where he served as an Usher and Small Group Leader while his hobbies focus on family activities, personal fitness, golf, reading and enjoying their family cabin in South Fork, Colorado.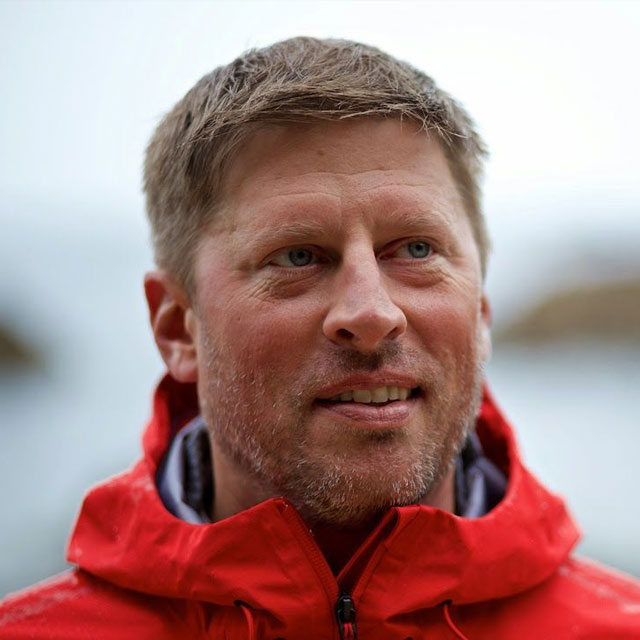 Shannon Stowell
President ATTA (Adventures Travel Tourism Association)
Shannon Stowell
President ATTA (Adventures Travel Tourism Association)
Environmental chemist > International business development > E-commerce pioneer > Adventure Travel Industry leader
Mr. Stowell has led the Adventure Travel Trade Association (ATTA) as CEO since 2004, pursuing the vision that it could be a powerful force for good in travel. ATTA holds conferences, produces research, performs training, consults and creates marketing programs for destinations and organizations. The ATTA has coalesced the adventure travel industry globally.
With 30 years of experience in adventure travel, e-commerce, outdoor retail, and environmental science, Shannon has been advising and speaking around the world for the last 18 years advocating for responsible tourism as a tool for destinations to position themselves at the intersection of commerce, conservation and community. He has served as a judge and evaluator for sustainability awards and emceed ITB Berlin's Corporate Social Responsibility day in addition to speaking at events such as WTTC, UNWTO and the WEF.
Shannon served on the board of the Global Sustainable Tourism Council and is part of the founding board of the Adventure Travel Conservation Fund. He was involved in recovery efforts following the 2015 Nepal earthquake. He is on the board of Tourism Cares and on the Advisory Committee for Blacks in Travel and Tourism.
The ATTA has made significant commitments and contributions to key issues such as climate action, Women's Leadership in Travel, Indigenous Tourism, wildlife trafficking and the reduction of plastic waste. He co-authored a book in 2008, published by National Geographic (foreword by Sir Richard Branson): Riding the Hulahula to the Arctic Ocean — A guide to 50 Extraordinary Adventures. He has written numerous articles and continues to contribute to AdventureTravelNews. He also gave a TEDx talk on responsible travel.
Mabel Guzman
ABR, NAHREP, CIPS, AHWD, Real Estate International Specialist

Mabel Guzman
ABR, NAHREP, CIPS, AHWD, Real Estate International Specialist
Mabél Guzmán (ABR, CIPS, AHWD), is a Cuban immigrant who came to the United States as a child and raised in Chicago, where she is a REALTOR® for more than 21 years. She is the NAR 2020 Vice-Chair for the Insurance Committee and Chair for the Business Insurance Work Group and Government Affairs Director for NAHREP Chicago North.
Mabél is a broker at Coldwell Banker in Chicago, where she specializes in residential real estate, works with investors on rehabbed properties focused in under-served communities and first time home buyers and sellers.
Economic development, housing advocacy, and public policy are Mabél's passions. At the national level, she has been a member of NAR's Board of Directors on and off since 2009 and has previously served on the Executive Committee. On behalf of the National Association of REALTORS®, Mabél testified before the House Financial Services Committee in 2019 about the reauthorization of the National Flood Insurance Program.
In 2020 she served as Vice President of Association Affairs of the National Association of REALTORS®, where she collaborated with six Committee Liaisons, and had purview of 53 committees, councils, forums, advisory groups and boards.
In 2014 she served as Chair of the Conventional Financing and Policy Committee, where she also testified on behalf of NAR's more than one million members before the U.S. Senate Subcommittee on Urban Affairs and Banking on "Inequality and Opportunity in the Housing Market."
At the state level, Mabél served on the Illinois REALTORS® Board of Directors from 2009 to 2011. In 2014, 2015, and 2018 she received the Illinois REALTORS® President's Medallion for Outstanding Service. In 2020 received the Distinguished Service Award from Illinois Realtors; the last Distinguished Service Award was given by Illinois Realtors in 2013. In November 2021 she represented Illinois Realtors and testified before the Housing Committee regarding American Rescue Plan funding and using these funds to spur housing development and redevelopment of abandoned properties.
Mabél is also a member of the Chicago Association of REALTORS® and served as its Treasurer in 2009 and President in 2011. In 2012, the Chicago Association of REALTORS® named Mabél their REALTOR® of the Year. In 2016, she received the Community Service Award and in 2021 She received the Realtor Achievement Award for her work in the industry.
Mabél cares deeply about community service and has frequently partnered with Habitat for Humanity, One Hope United, and the First United Methodist Homeless Ministry called Hope's Table. She is a longtime member of the National Association of Hispanic Real Estate Professionals (NAHREP) and was recognized in 2012 with a Community Service Award. She was named 2009 Member of the Year by the Women's Council of REALTORS® (WCR) of Chicago.
Robert Miggins
CEO, Big Sun Solar
Robert Miggins
CEO, Big Sun Solar
Robert co-founded Big Sun Solar to be a part of the future of energy. He believes moving to more renewable energy is not just the right thing to do, but it creates opportunities, jobs and growth. Prior to founding GSS, he spent 15 years in executive leadership roles at high growth web hosting and cloud computing companies – first at Rackspace as Vice President Sales and Product Development and then at Peer1 Hosting as Senior Vice President Business Development. He holds a BA in economics from Washington and Lee University and an MBA from the McCombs School of Business. A native Houstonian, Robert lives in San Antonio with his wife and 4 kids.
Agriculture
Food Industry
Banking, Investment & Legal Services
Construction
Clean Energy
Logistics
Real Estate
Technology
Tourism
Ports & Maritime Services